Staying up to date with current factual information can help ease any anxiety or stress about the situation.
We have information updated regularly in our 211 Database of Contra Costa County resources. This includes food distribution, site closures, shelter information, tax preparation information, and more. Search resources here! or text your zip code to 898211, call 211 (or 800.833.2900) for 24/7 assistance.
We recommend checking the following for additional information:
Contra Costa Health Services is updating a webpage with information here. This page is updated with new information as it becomes available, daily at 10 am and 2 pm.
Center for Disease Control (CDC) is updating a robust site with information and answers to commonly asked questions here.
Please stay home as much as possible, wash your hands frequently, practice self-care, call your physician if you have any symptoms, and stay informed and patient. We are all in this together.
March 16, 2020, Bay Area Health Directors issued Joint Order requiring:
ALL PERSONS TO SHELTER AT THEIR PLACE OF RESIDENCE OTHER THAN TO PROVIDE OR RECEIVE ESSENTIAL SERVICES.
DIRECTING ALL BUSINESSES TO CEASE NON-EXEMPT OPERATIONS AT PHYSICAL LOCATIONS.
PROHIBITING ALL NON-ESSENTIAL GATHERINGS OF ANY NUMBER OF PERSONS.
ORDERING CESSATION OF ALL NON-ESSENTIAL TRAVEL
While the Order is mandatory, the expectation is that most people and business will comply to ensure the safety of everyone.
Keep in mind that the outcome desired is to "flatten the curve" of the virus so as not to overwhelm health care systems and facilities.
Help everyone stay calm and healthy.
Call 211 if you have questions. We are here 24/7.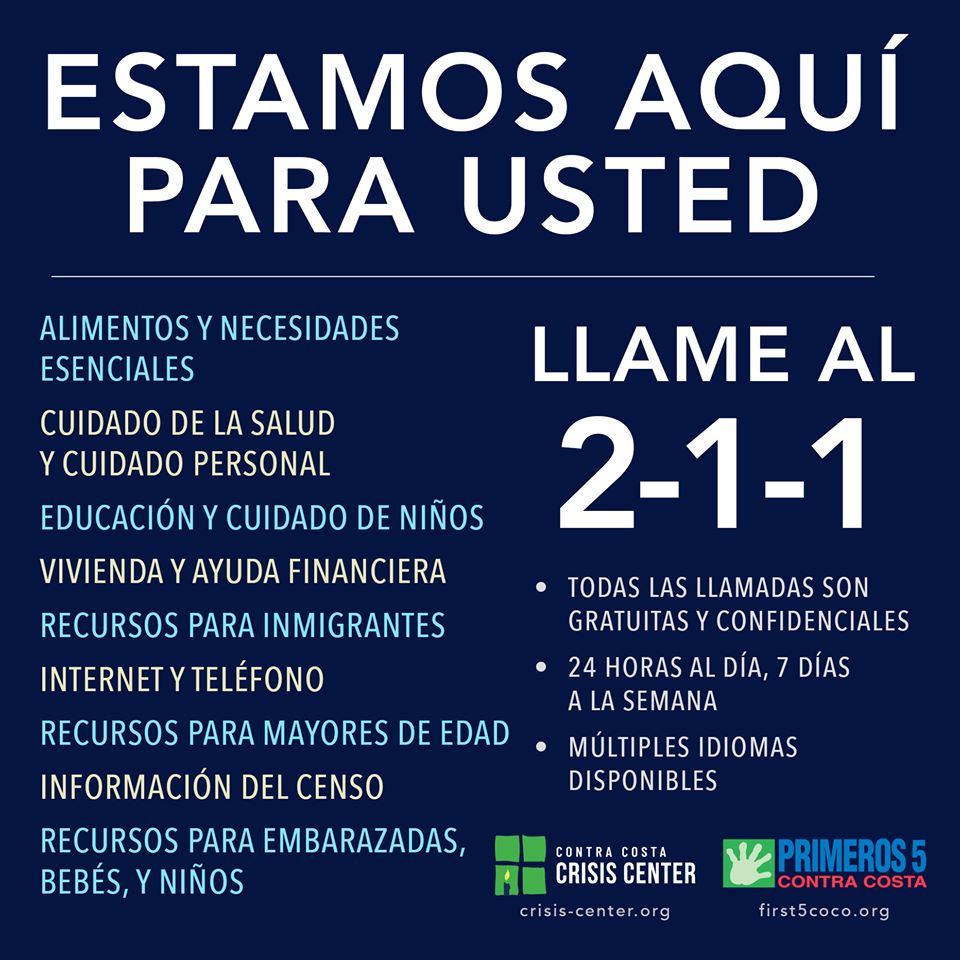 https://www.crisis-center.org/wp-content/uploads/2020/02/here-for-you.jpg
960
960
Dee Dee Robillard
https://www.crisis-center.org/wp-content/uploads/logo.svg
Dee Dee Robillard
2020-02-26 19:00:57
2020-03-27 23:01:01
Information about the Coronavirus - Call 211